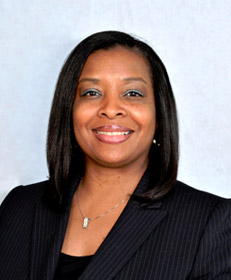 Jennie V. Smith-Howard
Senior Associate
Phone:
855-535-7195
Fax:
216-370-6647
Email:
Cleveland – Main Office:
1250 Granger Road
Cleveland, OH 44131-1234
Jennie V. Smith-Howard is a Senior Associate Attorney of Rathbone Group in Brentwood, Tennessee practicing in the area of insurance subrogation.
In 2001, Jennie graduated from Southern University School of Law in Baton Rouge, LA. While in law school, Jennie was involved in the Clinical Education program honing her litigation skills representing clients in various city, state and administrative tribunals. In 2016, Jennie earned an LLM in Healthcare Compliance and Regulatory Studies.
After graduating from law school, Jennie worked as a law clerk at the Civil District Court of Orleans Parish in New Orleans, Louisiana.  In 2005, Jennie went into private practice assisting her clients with disaster claims, Internal Revenue Service and state tax disputes. Originally from New Orleans, Louisiana, in 2009 Jennie and her family relocated to Nashville, Tennessee as a result of the aftermath of Hurricane Katrina. After the May 2010 flood in Nashville, TN, Jennie served on the Board of Directors for the Nashville Flood Relief Group assisting flood-affected Tennesseans with their disaster claims.
Jennie is an active member of her sorority, Alpha Kappa Alpha, Kappa Lambda Omega Chapter.  She also currently serves as Chapter Treasurer for Jack & Jill of America for the Williamson, TN area.  She is also a member of the Honorable Order of the Blue Goose International.
In 2014, Jennie joined Rathbone Group where she manages and litigates a high-volume caseload of insurance subrogation claims in Tennessee and Louisiana.  Jennie has been published in the NASP Subrogator, Nashville Business Journal and presented on various continuing education courses.
Jennie is licensed to practice law in Louisiana and Tennessee. She is admitted to practice before the United Bankruptcy Court for the Eastern District of Louisiana, United States District Court for Middle District of Tennessee, United States Bankruptcy Court for the Middle District of Tennessee and United States Tax Court.