Subrogation Lawyers – Nationwide – Across the Country
One of the advantages of having the Rathbone Group subrogation team manage your subrogation claim is that wherever your incident or loss occurred, we have subrogation attorneys licensed in most US states and DC, as well as a network of attorneys to cover the remainder. Why is this important? Well, the foremost reason is that a subrogation attorney must be licensed in the state the subrogation claim was brought in. But perhaps an equally important advantage to working with a law firm that has subrogation attorneys licensed in so many states is our intimate understanding of the different subrogation laws and processes in each one. Depth of experience in subrogation lawsuits in so many different settings keeps us poised to take the most effective and strategic route through any subrogation case. Rathbone Group's extensive experience managing the litigation of subrogation claims empowers clients directly through our subrogation attorneys licensed in these states:
Alaska
Arkansas
District of Columbia
Florida
Hawaii
Iowa
Illinois
Indiana
Kansas
Kentucky
Massachusetts
Maryland
Maine
Minnesota
Mississippi
Montana
North Carolina
Nebraska
New Hampshire
Ohio
Oregon
South Carolina
Tennessee
Texas
Virginia
Washington
West Virginia
Wyoming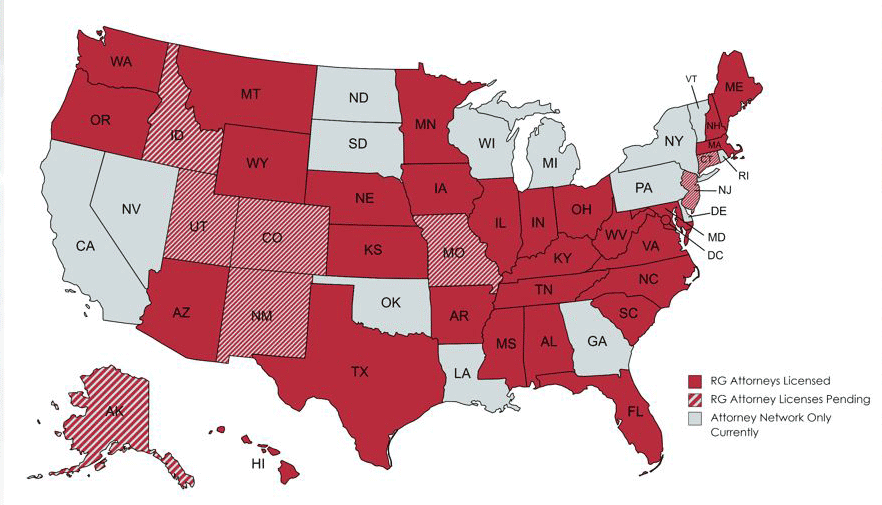 Rathbone Group litigates through Network Counsel in the remaining states, Canada, and US Islands.