Subrogation Lawyers Serving Clients Across the Country
One of the advantages of having Rathbone Group's subrogation team manage your subrogation claim is that wherever your incident or loss occurred, we have subrogation attorneys licensed in most US states and DC, as well as a network of attorneys to cover the remainder of the US, Canada and US territories.
Why is this important? The foremost reason is that a subrogation attorney must be licensed in the state in which the subrogation claim was brought. Law firms with limited licenses may not be able to provide comprehensive subrogation services for national or regional clients, such as carriers for auto or property policies.
Because we have the ability to mediate, negotiate and litigate subrogation cases anywhere, we can provide case management for nationwide and regional clients for any subrogation claim. This is particularly useful for clients whose recovery pursuit may involve out-of-state or multi-state legal processes, like maritime/admiralty, trucking and rental car entities. 
Subrogation Attorneys Knowledgeable in State-Specific Insurance Laws
Perhaps an equally important advantage to working with a law firm that has subrogation attorneys licensed in so many states is our intimate understanding of the different subrogation laws and processes in each one. Depth of experience in subrogation lawsuits in many different settings keeps us poised to take the most effective and strategic route through any subrogation case.
Insurance disputes can be complicated, especially when working with different statutes of limitations, variations in liability laws by state, and loss incidents involving multiple liable parties. Our subrogation specialists, claims adjusters and lawyers guide clients through the process with thorough communication and an eye towards resolving subrogation claims through alternate routes that are more cost and time-effective, such as mediation, arbitration and Arbitration Forums.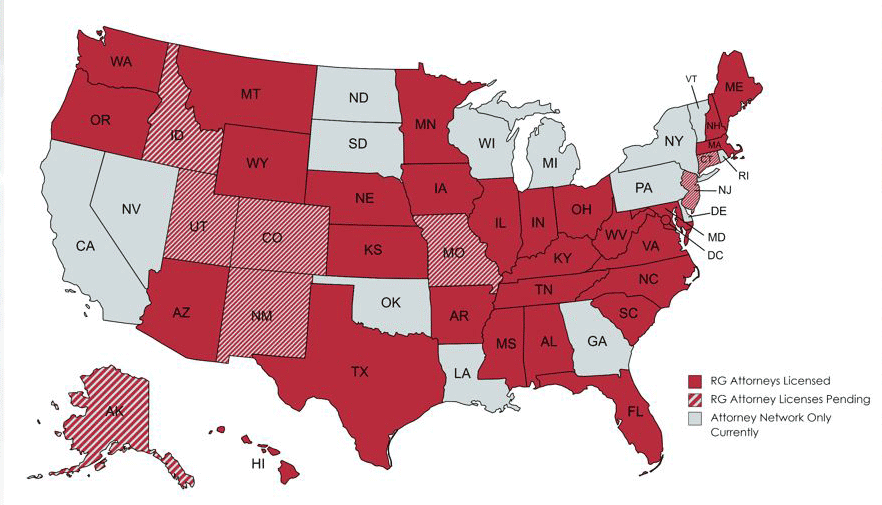 Rathbone Group litigates through Network Counsel in the remaining states, Canada, and US Islands.